Andrei the Great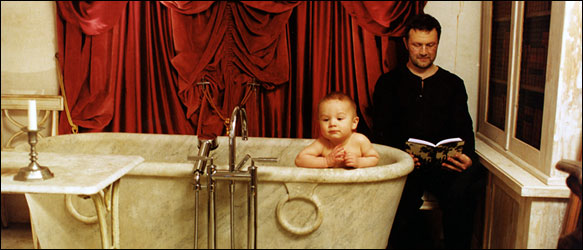 Deborah Turbeville for The New York Times
Andrei Dmitriev designed many of St. Petersburg's fashionable restaurants. Here he is with another of his creations, his son, Stepan.
By JOSH PATNER
ndrei Dmitriev, one of Russia's most influential interior designers, is staring at a gigantic, abandoned red brick armory in the heart of St. Petersburg that once housed a jail and masts for the imperial fleet. ''Without me they will spoil it,'' he says. His eyes focus here and there across the building's 18th-century arches and grilles with the precision of the digital camera that is his memory. ''It looks like a Piranesi etching, but it's real -- it's not on the paper.'' Dmitriev has big dreams for the place known as New Holland, where one day he hopes to design a complex of hotels, restaurants and galleries. He dreams of leaving his mark on this city's capitalist future as vividly as Peter the Great defined its imperial past.
Interior designers, like their rich clientele, are a new phenomenon in Russia. ''We are really few here,'' Dmitriev says of the two or three others that he counts as competition. Ask him for a Russian translation of ''interior designer,'' and he will pause to consider whether such a term exists.
''Di-za-in-er in-ter-i-er-ov,'' he says in Boris Badenov-accented Russian-English. But Dmitriev, unlike most others attempting to move Russia from perestroika to posh, isn't aiming for Western-style luxe. ''I don't understand Westerners,'' he says with disappointment. ''Kitsch really rules. But kitsch is kitsch. Tasteless.''
Filthy Coke bottles lie caught in the thawing Neva, and tourists pose for snapshots with an ersatz Catherine the Great as Dmitriev marches through this dramatic city that seems poised on the brink of both splendor and disaster. ''Taste,'' Dmitriev will tell you, ''is benefit of chosen. Chosen by God. Because it's like someone who plays music also is chosen -- to play beautiful music. To judge.''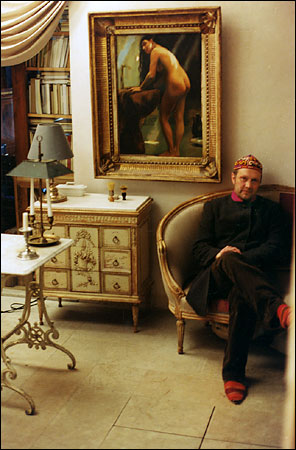 Deborah Turbeville for The New York Times
Dmitriev, at home, sees beauty as a free people's duty.
But Dmitriev is not a blowhard. He has designed nearly all of St. Petersburg's fashionable restaurants. His most recent, Cafe Veneziano, will be an intimate, Venetian-style place in the Fountain House, home of the Anna Akhmatova Museum. He is also at work on two residences: one for a shipping magnate on the outskirts of town and another for one of Russia's new industrial titans in Moscow. And while the 47-year-old Dmitriev lives well -- with his girlfriend and 2-year-old son -- he works more like an artist than the entrepreneur he has become: ''I am working for my pleasure. I can send away any client if I don't like his personality or the way he is thinking.''
Pouring horseradish vodka from an enormous bottle selected from the bar at Restoran, one of his first restaurant commissions, Dmitriev asks: ''Would you like some strong alcohol? Kalgan root. I heard it's healthy stuff.''
Once the printing house for the Russian Academy of Sciences, Restoran has an interior that is classic Dmitriev: there is no color (the walls are made of cement and sand), no ornately patterned carpet (the floors are the original, wide-planked larch), no art (a collection of gilded frames hangs empty) and no crystal chandelier (at night, illuminated steel loops light the ceiling). ''There is no pretext here,'' he says. ''Everything you see around you is natural.''
Dmitriev is eager to democratize Peter the Great's imperial notion that beauty can elevate a nation; he believes that the pursuit of beauty -- especially in a city still marred by unkempt communal housing -- is a free people's duty. ''I am on my own crusade for good taste and a better life,'' he says with absolute conviction. ''The very important thing is, any human being can change his own life with his own interior, his own clothes. If you just get rid of your own garbage.''
But Dmitriev often feels he is talking to an icy wind. ''Trying to bring better taste to Russia is really hard,'' he says before launching into a diatribe on the those ''tacky barbarians'' who commit acts of visual violence. ''They call that preservation!'' he says, pointing to the cement blocks replacing the stone fences along the canals. He points to the prefab windowsills in the buildings facing the Hermitage: ''Plastic windows! Near the Hermitage!''
After receiving a degree in French and literature from the newly renamed St. Petersburg State University, Dmitriev took advantage of perestroika and moved to Amsterdam in 1989, where he opened an antiques shop. Life there was a revelation. ''To belong to yourself,'' he says, ''is a luxury. To do what you want to is a luxury. Most valued thing you have is your freedom.'' But, he adds, ''freedom is a difficult thing to handle if you're not used to it.''
Equal parts dreamer and hard worker, Dmitriev went back to Russia in 1994 to find St. Petersburg oozing with tacky gloss, and there began his crusade. ''I am a linguist by education, and that's why I find it easy to do interiors,'' he says. ''Interiors are a text. Interiors are a message to the viewer.''
Staroe Kafe, the first space Dmitriev designed, was a neighborhood place he opened in 1994 on the Fontanka embankment. Decorated with peasant tables and samovars, it was a comment on the rapid and unsightly change his city was experiencing. ''I was trying to achieve feel of past of St. Petersburg,'' he says. ''Many of them felt it was a time machine.''
''I'm sort of joking with the Baroque here,'' Dmitriev says at Bellini, another grand project. ''This is the humiliation of luxury,'' he says of the large dining room in a former military academy with expansive views across the Neva. Genuine fragments of Baroque exteriors hang on the walls, while the chairs are acrylic Louis XV. Wire chandeliers, copied from an 18th-century Italian design, are bound in sackcloth.
At Sukawati, an inexpensive Indonesian eatery with a small club below, the walls are stenciled in tribal patterns using red wine and vegetable juice. ''Decorator isn't just a guy who is making decor,'' he says. ''It's a guy who is making fairy tale into reality.'' As for the future, Dmitriev can only offer an old Russian proverb: '''If you want to make God laugh,''' he says, lowering his voice, '''tell him your plans for the future.'''
Where to Now, St. Peter? You could spend a lifetime in the Hermitage alone, but our man in St. Petersburg, Andrei Dmitriev, suggests a few more stylish stops off the beaten path. A small but enjoyable spot to down shots of vodka ("do dna") is the Dacha, across from the Grand Europe Hotel (9, Dumskaya). "It's cheap, unpretentious and has an irresistibly groovy crowd," Dmitriev says.Bibliophiles in the market for first-edition Dostoyevsky should head to Staraya Kniga (2, Nevsky). "They only have the intellectual stuff there, no nonsense."Dmitriev, who knows a thing or two about restaurants, likes Fasol (17, Gorokhovaya) for the crowds and ambience.Dmitriev's favorite painting at the Hermitage is a still life by Pieter Claesz, which he likes for its "clarity and simplicity."For antiques, visit Lavka Drevnostey (36, 3d Sovetskaya) -"a chamber of curiosities." The furniture is authentic but unrestored, hence the handyman-special prices. Russian pop music is typically bad, but interesting acts like the locals Mumiy Troll and international talent like Marc Almond often play at Onegin (11, Sadovaya).For a glimpse of imperial Russia, one of Dmitriev's favorite destinations is Pavlovsk Palace, where Bulgari recently had a party for its Astrale jewelry collection. "What a thrill to see these beautiful rooms with people as I have seen it only in my imagination," he says. If your budget allows for more than a set of Russian dolls, stroll through the Marina Gisich art gallery (121, Fontanka embankment).
Originally published: October 10, 2004 New York Times